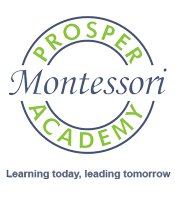 We are excited to be your neighbors and be partners in raising the "whole child" by implementing a curriculum and methodology based on the Montessori philosophy.
Our state of the art facility serves children ages 2 months to 8 years. We offer many full and part-time programs to serve you and your child's needs. In addition to our classrooms, Prosper Montessori Academy also has a library, covered and outdoor play areas, and a splash pad!
We are located just one minute from the Historic Downtown Prosper.