The Montessori Method
Choosing the right school can be a tough decision for parents. Finding an environment that provides your child with a loving and safe setting while remaining fun and intellectually challenging can be an overwhelming process. The American Montessori Society has many resources available to answer many questions that parents have regarding whether Montessori is the right choice for you and you family.
Each child is a unique individual – Montessori education recognizes children learn in different ways, and accommodates all learning styles. Students are also free to learn at their own pace, each advancing through the curriculum as he is ready, guided by the teacher and an individualized learning plan.

Beginning at an early age, Montessori students develop order, coordination, concentration, and independence – Classroom design, materials, and daily routines support the individual's emerging "self-regulation" (ability to educate one's self, and to think about what one is learning), toddlers through adolescents.

Students are part of a close, caring community – The multi-age spanning 3 years—re-creates a family structure. Older students enjoy stature as mentors and role models; younger children feel supported and gain confidence about the challenges ahead. Teachers model respect, loving kindness, and a belief in peaceful conflict resolution.

Montessori students enjoy freedom within limits – Working within parameters set their teachers, students are active participants in deciding what their focus of learning will be. Montessorians understand that internal satisfaction drives the child's curiosity and interest and results in joyous learning that is sustainable over a lifetime.
After School Pickup and Care (3PM – 6:00PM)
After School Care (5 Days)
Pickup from: Hall, Light Farms, Rucker, Boyer, Stuber Elementary Schools
Discounts:
5% Sibling Discount on lesser tuition; 10% for more than one sibling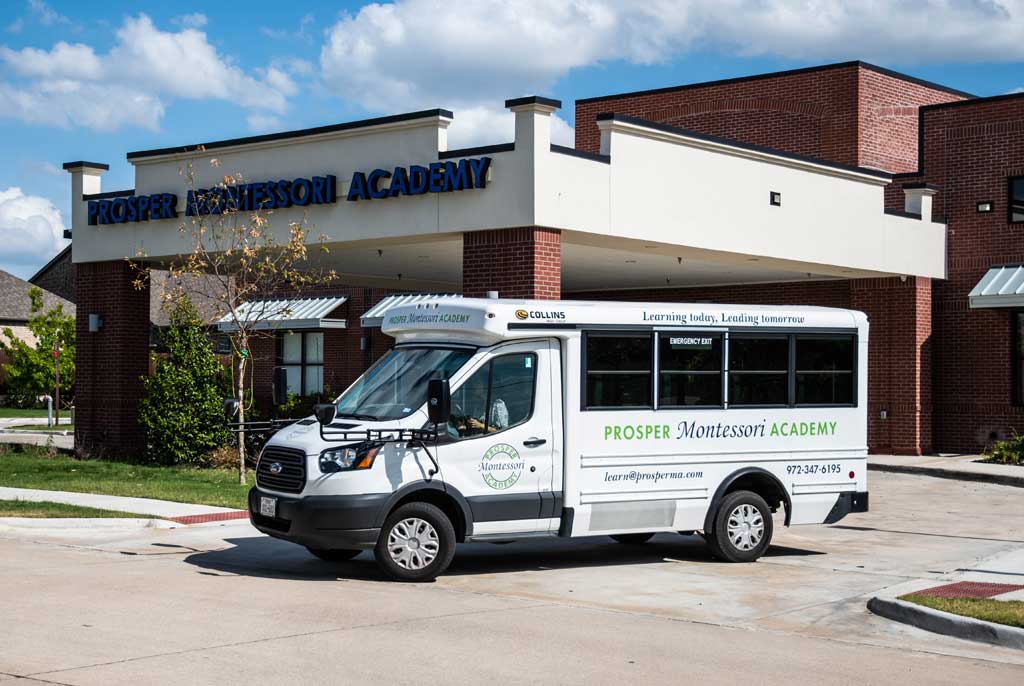 Prosper Montessori Academy offers after school pick up for students at:
Hall Elementary
Rucker Elementary
Boyer Elementary
Light Farms Elementary
Stuber Elementary
Our after school program includes healthy snacks, playtime, homework assistance along with fun art projects.